Message from the Chairperson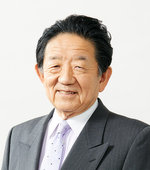 Tokyo Metropolitan  Public University Corporation
Chairperson
Haruo Shimada
The University, with a top-level education and research environment, provides an educational opportunity for strongly motivated students, and aims to become a university representing Tokyo to lead and contribute to the world.
Tokyo Metropolitan Pulic University Corpration is a top-grade municipal university in Japan. It means the University widely conducts education and research in various fields from science and engineering to social sciences, has superior faculty including leading edge researchers and high-quality staff, and among others, is a place of learning which can provide excellent educational conditions to highly motivated students with boundless possibilities. Moreover, it is a complex educational and research organization, combined with unique educational institutions of Advanced Institute of Industrial Technology and Tokyo Metropolitan College of Industrial Technology that contribute to enhancing the basic industrial skills.
Its diversity and composite nature will create synergies which are difficult to achieve elsewhere through communications on campus and friendly competition. At the same time, mutual understanding and cooperation are necessary to promote further the integrity and comprehensiveness of the entire organization, and special efforts shall be made to share the philosophy. I have just assumed the position from former Chairperson, Saburo Kawabuchi this spring. The University celebrates its15th year of establishment this year and I would like to do my best to foster the identity of the entire corporation, love of alma mater and pride.
Tokyo is a world's major large city and we aim to become a University representing Tokyo that can lead the world. We are now facing a historical upheaval globally and looking ahead to such megatrends, we would like to contribute to the world by fully leveraging our potential abilities such as (1) development of talents who can change the world and contribute to its development, (2) research and implementation for making Tokyo the most attractive tourist city in the world and (3) research and implementation for making Tokyo a model city for lifetime education to achieve lifetime satisfaction in Japan, the world's unparalleled super aging country.